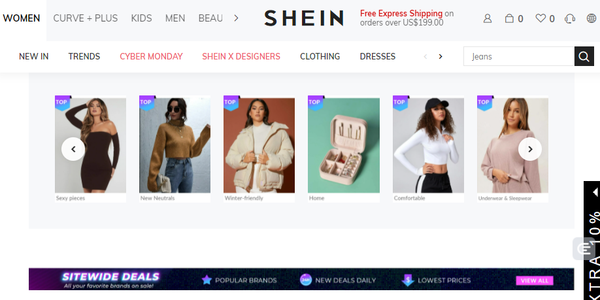 If you're looking for trendy, affordable clothing, chances are you've heard of SheIn. This online retailer offers stylish clothes, accessories, and home decor at incredibly low prices. There are a ton of online stores like SheIn that sell trendy and affordable clothing. But with so many options, it can be hard to decide which store is right for you!
That's why I put together a list of my favorite stores like SheIn. Check it out, and see which one is your new go-to online shop!
ASOS
ASOS is a go-to for fashion-forward young women, with trendy and stylish clothing at every price point. The site offers everything from casual basics like tees and bodysuits to party-ready sequin dresses, making it the sort of one-stop shopping destination where you can get your wardrobe essentials too. Plus, it's affordable enough that if you find yourself looking at the site with no idea what you're doing but tempted by something crazy expensive, you can afford to take the plunge without breaking the bank.
Nordstrom Rack
If you're looking for designer clothes at a fraction of the price, Nordstrom Rack is the place to go. The site offers both previous seasons' styles and current collections from top designers, so you can always find something you love — and you don't have to worry about it going out of style anytime soon. Plus, with Nordstrom Rack's "rack attack" deals, you can score some seriously great bargains.
PrettyLittleThing
The online retailer PrettyLittleThing is a great place to shop for trendy looks that won't break the bank. You can find pieces in various styles, from casual basics to night-out wear, and you don't have to worry about being limited by your body type since there's an extensive range of sizes. The site also offers a good selection of accessories, including shoes, bags, and jewelry.
DressLily
DressLily is a fast-fashion online retailer that offers trendy and up-to-date fashion clothing for women. They offer a wide range of dresses, blouses, swimwear, skirts, pants, and more.
Wish
Wish is a great online shopping destination for everything fashion-related. It has a little bit of everything, from dresses and tops to skirts and shoes. You can also choose from a wide range of colors and styles. The brand specializes in women's fashion, but you can find some unisex pieces.
Romwe
Romwe is like SHEIN because it falls under the category of fast fashion (with clothes that usually take no more than ten days to be shipped) and because its prices are affordable. The China-based site has a ton of cute and trendy picks, including maxi dresses, pants, and shorts for all seasons and accessories like hats, sunglasses, and bags. Just be aware that the sizing can be a little tricky (especially when it comes to bras and swimwear), so it's best to read the reviews when shopping.
Aliexpress
Aliexpress is like a mix of SHEIN and Forever21: It features the trendy designs of the latter but with many items under $10, while also selling fast fashion pieces that can be hard to find at SHEIN's prices. Styles are ever-changing, so it's not always easy to predict what you'll find on the site, but we love its mix of boho, preppy and glam pieces. Shipping times can be a minor hit or miss (items often take anywhere from 2 weeks to a month to arrive), but the prices are so reasonable that it's worth the wait.
Amazon
The online behemoth is a great option for finding reasonably priced apparel, especially as you're building out your wardrobe. Amazon offers the most extensive selection we've seen currently on the market for that demographic when it comes to plus size. The site also has a vast array of styles and brands across all different price points, making it easy to find what you're looking for and save some cash in the process.
Motel Rocks
Motel Rocks is a UK-based online shop specializing in rock 'n' roll styles with an edgy twist. The brand's pieces often have a rebellious feel, from ripped denim to punk-inspired prints. But what we love most about Motel Rocks is that it's a go-to for celebrities–the Kardashian sisters in particular love the brand. We're also longtime fans of their Instagram and blog, which offer an inside look at their latest collections and star-studded photoshoots.
HauteLook
HauteLook is a daily deals site that offers discounts of up to 75% off on designer clothes, shoes, and accessories. The site has a wide range of brands, including both high-end designers (like Gucci and Prada) and more affordable options (like Zara and Topshop). And if you're not shopping from your couch, you can also find HauteLook at events like New York Fashion Week and the Sundance Film Festival.
RoseGal
RoseGal is a go-to for trendy and affordable clothes. The pieces on the site are usually inspired by street style, so you can find everything from bell-sleeve tops to distressed denim on the site. And because the brand is always up on the latest trends, it releases new arrivals every day, so you can shop as often as your heart desires. The only downside is you'll have to order quickly if there's something in particular you like—the pieces go FAST.
Boohoo
If you love SHEIN's trendy and affordable pieces, you'll love Boohoo just as much. The UK-based brand has a majorly cute selection of affordable, trendy women's clothing, and you can find pieces that are just as pretty and unique as those at SHEIN. The only downside is that the sizes tend to be limited and run small.
Zaful
Zaful is a relative newcomer to the online fashion scene, but it's quickly made a name for itself with its on-point (and on-trend) selection of clothes and accessories. The best part? Prices start at just $3, so you can snag several pieces without breaking the bank. Zaful also has an impressive plus-size section, which is great for curvy fashionistas on a budget.
Fashion Nova
Fashion Nova is a brand that understands and caters to the modern-day woman's body. It offers curve-hugging dresses, form-fitting bodysuits, and on-trend denim in all shapes and sizes, so no one has to feel left out. The best part? Most items are under $50.
ModaXpress
ModaXpress is a little-known online retailer that caters to budget-conscious fashionistas. Although its clothes are made from synthetic materials, many of its styles look quite similar to those on SHEIN, where items are generally made of rayon or viscose. You can find ModaXpress' wide selection of bridal gowns, clubwear, formal wear, and everyday clothes in sizes 2-26.
BerryLook
BerryLook is an online retailer known for its Asian-inspired, boho-chic designs. They carry clothing, shoes, and accessories, so everyone has a little something. Clothing options range from casual wear like ripped jeans and embellished t-shirts to more formal wear like maxi dresses and sequined skirts. All of the clothing is unique, and the prices are also very affordable.
Missguided
Missguided is a brand that caters to young women who want to feel confident and stylish without spending a fortune. The pieces are trendy but not too trendy, so they'll never go out of style (ahem, the wrap dress). Missguided also offers a wide range of sizes, from 00 to 24. And if you're looking for accessories, the brand has you covered with everything from shoes to bags to sunglasses.
LovelyWholesale
If you love SHEIN's trendy, low-cost pieces, we have a feeling you'll also love LovelyWholesale. The online retailer offers a similar mix of feminine dresses, bold prints, and cool accessories, but at even lower prices (most items are under $25). Plus, the site stocks sizes up to 3XL, which is rare for an Asian-based retailer. If you're not sure about sizing when it comes to trendy cuts like bodycons, this is a good place to test the waters.
ChicMe
ChicMe is an online retailer that stocks a lot of the same clothing items as SHEIN, but it definitely has its own sense of style. The site is heavy on feminine details and prints, with a lot of flowy dresses, ruffled tops, and floral skirts. It also offers a pretty good range of sizes (up to 3XL) and affordable prices.
FairySeason
Fairyseason is stylish and modern, but they offer an amazing price point. They have the lowest prices around for similar styles to those at SHEIN, like off-shoulder rompers and tulle skirts. Not only does FairySeason beat out other retailers in terms of price, but they also offer free shipping within 1-3 days! If you're looking for a fast, affordable, and stylish solution to your wardrobe woes, FairySeason is the go-to retailer.
Nasty Gal
Nasty Gal is another contemporary, California-based brand that's got a huge cult following and an equally large assortment of cool-girl clothes. The company sells both clothing and accessories like shoes and handbags, and though it stocks plenty of bold (sometimes over-the-top) styles, it also has more classic pieces like flowing maxi dresses and choker necklaces.
Lulus
Like SHEIN, Lulus is an online-only retailer that specializes in trendy and flattering low-price dresses, shoes, and more. It's got a bit of an edgier vibe than the aforementioned brands: think leather jackets, lace bralettes, and ripped denim skirts. And it also sells menswear and lingerie alongside women's clothing.
Pink Lily
If you're looking for something a little more upscale than SHEIN but still want to stick to affordable prices, take a look at Pink Lily. The site carries trendy, on-trend pieces that are perfect to wear in your day-to-day life or when you need to feel like you're wearing something special (hello, New Year's Eve!) Plus, it can be worn pretty much anywhere.
Red Dress Boutique
I'm probably biased, but this is my new favorite shopping site. It's kind of like SHEIN and Nasty Gal had a baby: The clothes are more on-trend yet still come at pretty affordable prices. Plus, the curation process seems to be better–like how it separates runway pieces from more casual items. While its plus-size options aren't as expansive as those at SHEIN, it has a massive selection of shoes that will help you work a lot of trends into your wardrobe.
JustFashionNow
JustFashionNow is like SHEIN's slightly less flashy, more underrated sister store. It offers a ton of cheap and trendy pieces that won't break the bank (one-piece dresses for $13? Yes, please!) — but most importantly, they fit well and actually look good after you wash them a few times.
StyleWe
StyleWe is a web store that offers modern and trendy clothes for women. The store has a wide range of categories, including dresses, tops, bottoms, swimwear, outerwear, and more. You can also find collections from various designers on the site.
Princess Polly
Princess Polly is one of the coolest online stores we've come across in a while. It specializes in contemporary pieces from up-and-coming Australian designers, and we love the mix of stylish and playful items it offers. Whether you're in the market for a new dress for a special event or you're after some statement-making separates for the office, Princess Polly is sure to have you covered.
Choies
Just like SHEIN, both Choies and Romwe are great sources for budget-friendly clothes that still look stylish. They also have a ton of cute swimsuits. If you're looking for clothes to wear on vacation, definitely check them out.
Shop Akira
Shop Akira is one of our go-to's for statement pieces. The brand has everything from cool graphic tees to badass leather jackets, and the best part is that the prices are totally reasonable. It's also a great place to find unique denim styles, like mom jeans and extreme high-waisted styles, since most mainstream retailers don't carry them.
Cicihot
If you're looking for stylish clothes but don't want to spend a fortune, check out Cicihot. This online retailer offers a huge range of trendy pieces, from bodycon dresses to wide-leg trousers and everything in between. You can also find a selection of everyday basics, including tees and tops. Cicihot also has a location in New York City, so you can even shop on-site if you're in the area.
Target
Target is one of those stores that you can always count on for a good mix of trendy and classic pieces at an affordable price point. The retailer has something for everyone, whether you're looking for a stylish work outfit or some new pieces to add to your weekend wardrobe. And, as an added bonus, Target frequently collaborates with fashion designers like Phillip Lim, Victoria Beckham, and Anna Sui to create limited-edition collections that are only available for a few months.
Chicwish
First and foremost, Chicwish is a destination for pretty dresses. The styles on offer range from girly and floral to sleek and modern, so you can find something to wear to just about any event. What's more, the brand frequently collaborates with independent designers, so you know you're always getting something special (and not just another black dress).
Forever 21
Forever 21's been a favorite for almost as long as we can remember, and it's one of the first places we head to whenever our favorite trends start to hit stores. Plus, it gets our heart racing with eye-catching deals and the occasional flash sale, so we can snag an adorable new top for less than we'd pay at a fast-fashion retailer.
Lightinthebox
Lightinthebox is another good option for comfy, cheap clothes. Its prices are lower than SHEIN's, and it offers plenty of trendy pieces. Shipping is free on orders over $50, and the company offers a hassle-free return policy.
Maurices
Maurices is the place to go for affordable, stylish classics. The brand has a huge range of sizes, plus an in-house line of curve-hugging dresses and separates that are perfect for all body types. It also stocks a great selection of trendy items for those times when you want to switch things up, but it still has a vast range of day-to-day basics. Oh, and it's one of the few places that carry plus sizes.
1015 Store
1015Store is a Los Angeles-based online retailer that offers contemporary women's clothing, shoes, and accessories at an affordable price. The company was founded in 2007 by two sisters and has since grown to offer a wide range of styles, from bohemian and vintage-inspired pieces to sleek and modern designs.
Zulily
Zulily is a members-only shopping site that's similar to SHEIN in several ways. First, it hosts sales on everything from clothing and home goods to kids' toys and sports gear, is known for its rotating selection of styles at affordable prices, prides itself on providing "amazing finds every day across all categories," and has frequent shipping promos.
Walmart Fashion
Walmart Fashion is one of the most affordable stores out there, and it has a really good variety of clothing, including a section for plus-size women. The downside is that the clothes can be a bit on the low-quality side, and the store can be a little disorganized.
Tobi
Tobi bills itself as your one-stop online shop for the latest trends. The site carries everything from party dresses to everyday workwear, and it's a go-to for finding affordable pieces that still look high-end. Plus, Tobi offers free shipping and returns on all orders so that you can take advantage of its no-risk shopping policy.
So which one of the above is closest to SHEIN? Wherever you decide to shop, be sure to do your research first! SHEIN is an excellent resource for affordable clothes and accessories, but it's not the only one. There are plenty of other stores that sell similar products at different price points. Be sure to check them out before making your final purchase.