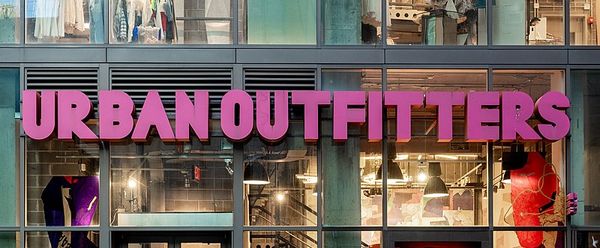 Urban Outfitters is great for unique styles that are a mix of vintage, boho, comfy and chic. It has a style that you won't find easily. People love to shop there because they can pick up all kinds of trendy clothing and accessories in addition to home décor items like throw pillows and rugs!
Don't have an Urban Outfitters near you or think Urban Outfitters is too expensive? No problem! Here are some stores like Urban Outfitters that will help you shop great trendy items.
Free People
Free People is the boho girl's go-to for a carefree but still fashion-forward look. The brand often features crochet, flowing fabrics and lots of lace in its designs, and everything from the clothes to the models' hair and makeup has a very rustic, natural feel. If you're into festival style or just want something a little more laid back than what you usually wear, FP should be your first stop.
Madewell
If you're looking for a more affordable version of Urban Outfitters, Madewell is definitely worth checking out. The brand has an effortlessly cool vibe and offers denim, chambray shirts and other key staples at very reasonable prices. We especially love the accessories selection (think well-made backpacks, stylish hats and cool wooden sunglasses) and the vintage-inspired denim.
ASOS
Sometimes Urban Outfitters can be expensive and you can find similar designs online. ASOS is a go-to for trendy and affordable clothes, making it a perfect alternative to Urban Outfitters. It offers everything from everyday basics to statement pieces, and its style leans more toward the hip and young than Urban's does. ASOS also has an amazing plus size section (UO could take some notes).
H&M
H&M is a Swedish retailer that's beloved for its fast-fashion finds. The prices are low, and the quality is often good enough to pass muster with more discerning shoppers. We love H&M for basics as well as trendier pieces, and it's always our go-to for when we need to fill in gaps in our wardrobe on a budget.
Forever 21
Every college student's favorite store, Forever 21 is another fast-fashion retailer with tons of new styles (and lots of sales) arriving all the time. The downside is that the quality can be a bit iffy, but for the price you can often snag pieces that are on-trend and totally wearable.
Zara
Zara is another huge Spanish retailer that's well-known for its trendy clothes at low prices. It's a great place to go if you want to stay ahead of the latest fashion trends but don't want to spend a fortune. Just be prepared to do some digging through the racks, as Zara's clothes can be a little hard to find sometimes.
Target
OK, so Target isn't quite as high-end as some of the other stores on this list, but we love it for its mix of cool and affordable pieces. Plus, the brand has been known to team up with designers like Phillip Lim and Victoria Beckham for exclusive collections, so you know that it's always on top of the latest trends.
Nordstrom
If you're looking for high-quality clothes and don't mind spending a bit more, Nordstrom is definitely worth checking out. The retailer has a wide range of brands, from budget-friendly ones to designer names, so you can find something to suit your style. And if you need any help narrowing down your options, Nordstrom's customer service is top-notch.
Missguided
If you're looking for something a little more wild and fashion-y than what you'd find at UO, Missguided is the brand for you. The UK-based company has quickly become one of our go-tos for statement party dresses, out-of-the-box denim and playful prints. It also offers larger sizes and petite options, making it a good choice for just about everyone.
Banana Republic
Banana Republic is a great place to shop if you want versatile basics with a touch of luxury. The styles are classic but always current, so they can easily be dressed up or down. BR also carries a good range of accessories, including bags, hats, belts and sunglasses. Prices are a little more expensive than at Urban Outfitters, but the quality is often worth it.
Lulus
Lulus is what we like to call a "fashionista's fashion store." It carries everything from casual basics (think tank tops, leggings and jeans) to dressy party pieces (sequined cocktail dresses and lace overlays), but it caters specifically to young women who want to feel put-together while they work, study and play.
The site also has a wide selection of plus size items (including shoes!), so you can shop for yourself or your BFF who is always complaining that there aren't any cool clothes in her size. Plus, its shorter hemlines and less skin-bearing cuts often earn it the distinction of being one of the most body-positive brands out there.
Nasty Gal
OK, so this one is a little bit more on the risqué side than the rest. Like UO, Nasty Gal specializes in fast-fashion pieces that are quirky, sexy and cool—think rompers, graphic tees and mini skirts. The site also has a ton of vegan options (including shoes) and often offers discounts like BOGO sales, free shipping for purchases over $100 and site-wide discounts of up to 50%.
ModCloth
Founded in 2002 as an online-only retailer, ModCloth has become a major player in the past few years. The brand specializes in vintage-inspired and indie styles, with a focus on size inclusivity (a.k.a. there's something for everyone). ModCloth also carries a range of home goods, from rugs to wall art.
Etsy
As the ultimate destination for all things handmade, Etsy is a great place to find unique items that you won't find at any other store. The online marketplace is stocked with vintage clothing, jewelry and accessories, as well as handmade items from independent designers. Etsy also allows you to filter your search by color, size and price range, which may make the site easier to navigate if you're looking for specific items.
Frank And Oak
Frank And Oak is a Canadian brand that's been growing in popularity in the U.S. in recent years. It carries stylish and affordable menswear, with a range of items from button-downs to sweaters to joggers. The company also has a great online presence, with detailed product descriptions and styling tips for each piece.
Cider
Cider is a Hong Kong-based retailer that has a bit of a cult following among fashion bloggers and an aesthetic that's very similar to Urban Outfitters. It offers a mix of contemporary, vintage-inspired and high fashion–inspired pieces from brands like Citizens of Humanity, 3.1 Phillip Lim, Stella McCartney and Christopher Kane.
Lisa Says Gah
Lisa Says Gah looks a lot like the kind of stuff you'd find at Urban Outfitters, Anthropologie or Free People, but it's less expensive. You can find everything from printed maxi dresses to T-shirts and jeans at the store, and the pieces are all designed in-house.
Outerknown
Outerknown is a relative newcomer, but it's one of our current favorite brands. The line specializes in easy staples with a solid mix of basics and statement styles. Outerknown uses recycled materials in some of its pieces, and its jeans are designed to be sustainable as well as flattering and comfortable.
Revolve
If you're looking for something a little more high-end, consider checking out Revolve. The online retailer specializes in contemporary and designer clothing for women, with a focus on denim, dresses and outerwear. Brands carried by the site include Joie, RtA, Splendid and Wildfox, so you know you're getting good stuff. Revolve also carries a range of sizes, from XXS to 3XL, and offers free returns so you can make sure everything fits before you commit.
Shopbop
Shopbop has a little bit of everything, from statement earrings and necklaces to cute flats and workout gear. To us, it feels a lot more curated compared with some other sites that carry 'trends' rather than actual essentials, but if you're looking for something specific or an easy way to get a whole bunch of outfit ideas, it's a great resource. Plus, there's always a sale going on, so you can snag some serious deals.
Aritzia
Canadians know what's up when it comes to fashion, and we love them for it. Though Aritzia is technically a chain (with locations in BC , Ontario and Quebec ), it feels like one of those special boutiques that only the locals know about — and we don't mind keeping this gem to ourselves. The brand's aesthetic is just as free-spirited and bohemian as UO, but it leans more toward the luxe and boho-chic spectrum of clothing. It's also definitely more pink and flowery than UO, so be ready for that!
Anthropologie
Like Free People and Urban Outfitters, Anthropologie is a sister brand to UO. It's known for its eclectic and often expensive mix of vintage-inspired pieces, but it also has a great line of home decor if you're in the market for some new accessories or furniture. Prices at Anthropologie vary greatly, so it's a good place to visit if you're looking for something special or unique.
The Citizenry
The Citizenry is a new online retailer that's quickly gaining a following for its well-made, ethically sourced homewares. The company works with artisans from all over the world to create unique pieces that you won't find anywhere else, like woven baskets from Ghana and hand-carved wooden bowls from India. It also has a great selection of bedding, towels and other home essentials.
Joss & Main
This online-only store stocks a huge collection of items from more than 1,000 different brands. So really, you're getting access to many of the things that would be on shelves at Anthropologie, Free People and Urban Outfitters — just without the dressing rooms or sales associates. Joss & Main is known for its collaborations with names like Jonathan Adler, Heidi Paskin and Joanna Gaines, so if you're a fan of any of those brands, this is the place to shop.
Burrow
If you're looking for a more affordable option, Burrow is a great alternative to Urban Outfitters. The company offers stylish sofas, chairs and beds starting at just $399, and it has an impressive range of colors and styles to choose from. Plus, all of its furniture is made in the USA from sustainable materials.
World Market
If you're looking for a less expensive but still stylish alternative to Urban Outfitters, check out World Market. The store has a mix of global finds (think colorful textiles from India, funky beaded earrings from Africa and carved wooden masks from Mexico), as well as everyday items like dinnerware, home decor and furniture. Plus, the prices are incredibly reasonable.
Tobi
Though it's a bit younger than the others on this list, online retailer Tobi has quickly become a favorite of ours for its mix of trendy and classic pieces. It also has an insane sale section, so you can score major steals on designer clothes (like this $50 dress from ASTR the Label). Plus, it offers free returns and exchanges, so you can feel confident in your purchase.
Need Supply Co.
Like UO, Need Supply Co. stocks up on laid-back basics like flannel shirts, denim jackets and cutout swimsuits. It's also got plenty of cool graphic tees, jeans and skirts. And while its shoe collection is much smaller than Urban Outfitters', it's got a good variety of sandals, sneakers and boots in addition to its more dressy styles.
Boohoo
Boohoo is similar to Urban Outfitters in that it's fast-fashion, meaning lower prices than many high street brands but also lower quality. That said, the selection of pieces is fantastic and its plus size range is one of the best out there. If you want your clothes quickly (and cheaply) over having them be ethically made, this is the place for you.
TopShop
If you want to buy something similar to what you'd find at Urban Outfitters but don't want to break the bank, TopShop is a great option. The British retailer has everything from basic tees and denim to trendy dresses and accessories, and the prices are generally more affordable than at other stores like Zara or H&M. TopShop is now part of ASOS.
WildFox
If you're into Urban Outfitters' vibe but want something a little more relaxed and California cool, look no further than WildFox. The brand is known for its shredded tees, camo prints and super-soft sweatshirts, making it the perfect place to stock up on cozy basics. Prices are a little lower than you'll find at UO and Madewell (and many pieces are on sale all the time), but we promise they won't skimp on quality.
Reformation
Although Reformation isn't an exact match to UO, it definitely has some similarities. You can find casual, boho-style dresses and accessories here for a slightly lower price point than you would at the other store.
Mango
Mango is a Spanish retailer that's similar to Zara in that it offers trendy pieces at budget-friendly prices. But unlike Zara, which can sometimes feel a little too trendy for our taste, Mango strikes a good balance between classic and on-trend items. The brand also has a great range of sizes, from XXS to XL, and caters especially to petite ladies.
Urban Outfitters is not the only retailer that sells clothes, beauty products, household items, or other goods. Like Urban Outfitters, many companies exist that offer similar products. There are plenty of different stores available for anyone looking to buy what they need.